Northern Area
Kuwana Ishidori Festival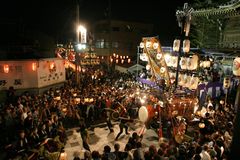 The saisha float parade during the Kuwana Ishidori Festival in Kuwana City features 43 floats – you could search the whole country and it would be difficult to find a single shrine or ritual where you can see such a large number of floats at one time. You likely won't find a more boisterous festival anywhere in Japan. This festival, one of the 33 festivals of "Yama, Hoko, Yatai, float festivals in Japan", was inscribed on UNESCO's Representative List of the Intangible Cultural Heritage of Humanity in November 2016.
  URL http://isidori.jp/index.html ※Japanese only
Ise Shima Area
Kogakkan University Gagaku Club
Gagaku, recognized as the oldest form of orchestral music in Japan, is a blend of our country's traditional song and dance, and instrumental music and dance that came from another Asian country many years ago, and is embedded in Japanese culture. Gagaku is also considered as any of music that was newly composed under the influence of those. It is said to have been completed in the middle of the Heian period (around the 10th century). Performed at palaces, temples and shrines, this example of traditional Japanese music has been faithfully preserved over many years. The Kogakkan University Gagaku Club works under the direct guidance of a master musician from Ise Jingu. The club conducts an offertory performance at Ise Jingu (Naiku) every July, and performs at the university every November. The club also performs at shrines, events introducing traditional Japanese culture and related to regional promotion. They also contribute to cultural education at elementary and junior high schools.
They performed at the Gala dinner of Japan Golf Tourism Convention held in Shima Kanko Hotel on Oct. 2, 2018. (Photo by Ken Tenzing)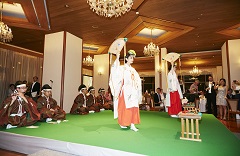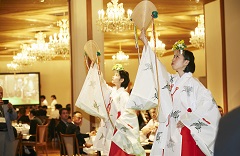 The Toba Kuki Navy Taiko Drum Performance
Around 400 years ago, Toba castle commissioned by a naval commander Yoshitaka Kuki under Nobunaga Oda and Hideyoshi Toyotomi. Nobunaga Oda and Hideyoshi Toyotomi were commanders who engaged in many battles across a war-torn country. Yoshitaka Kuki, who served under them and was a renowned naval leader, played the traditional Japanese drums to boost the morale of his military men during battle and to signal during skirmishes at sea. The Toba Kuki Navy Taiko Drum Performance is a modern reenactment of his drumming.
  URL http://tobakanko.jp/modules/know/index.php?p=711 ※Japanese only
Erihara High-speed Rice Cake Pounding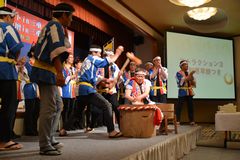 This traditional performance takes place in the Erihara district of Isobe Town in Shima City. With musical accompaniment, it is a unique performance, where the tempo and energy fire up the crowd. Once the rice is pounded, attendees can enjoy the kinako mochi (toasted soybean flour rice cake), or nori mochi (dried seaweed rice cake).
  URL http://www2.plala.or.jp/erihara/ ※Japanese only
Jyakoppe Dance
The Jyakoppe dance represents shrimps jumping out of the water and is accompanies by the catchy "Ise Ebi Lobster Song." Each June, the dance is performed at the Ise Ebi Lobster Festival to show gratitude for the goods of the sea and to wish for plentiful catches of fish. It has also been performed for the annual NHK Year-end Song Festival and the Osaka Midosuji Parade. It is a simple dance that is very popular. *"Jyakoppe" means "young shrimp" in Shima City dialect.
They performed at the reception of Japan Golf Tourism Convention held in Shima Kanko Hotel on Oct. 1, 2018. (Photo by Ken Tenzing)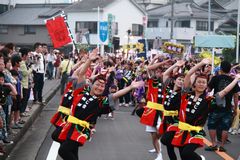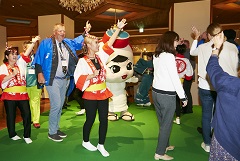 URL http://www.iseebi-onsen.com/iseebi/ ※Japanese only
Anori Puppet Show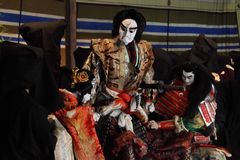 The Anori Puppet Show is a folk performance dating back about 400 years. An offertory performance conducted on a stage at Anori Shrine is performed by three people, and in January 1980 it was designated by the Japanese government as an Important Intangible Cultural Property. It has been praised for its "bold expression of emotion and the richness of its rustic beauty."
  URL http://www.kanko-shima.com/html/event_det.php?no=20150820235405 ※Japanese only
Iga Area
Ninja Performance by ASHURA, The Iga Ninja Group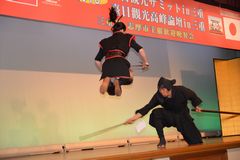 Iga City is the proud birthplace of the Iga-ryu Ninja arts. In order to show the world how ninjutsu has been brought to life, Iga pursues the true image of the ninja. The special ninja show group, Ashura, perform more than 1,500 times a year at the Iga-ryu Ninja Museum. At the museum, which is visited by guests from around the world, these demonstrations show the soul of the ninja, their technique and physical prowess. Visitors are always amazed by their breathtaking speed, vigor and skill. The Ashura group have also performed in Taiwan, South Korea, Hawaii, the U.S. mainland (at the cherry blossom festival in Washington D.C.), China (Beijing), Spain, France (the Parisian Expo), Italy (the Milan Expo) and Brazil. They continue to receive requests from abroad to perform.